Early trading sees Sensex rise 300.1 points to 65,540.78; Nifty rises 105.9 points.
After falling for three days, equity benchmark indexes recovered in the early hours of Friday, August 4, amid purchasing in IT counters and erratic global market trends.
Early trading saw the 30-share BSE Sensex rise 300.1 points to 65,540.78. To reach 19,487.55, the NSE Nifty increased by 105.9 points.
Among the top gainers from the Sensex pack were Tech Mahindra, Wipro, HCL Technologies, Tata Consultancy Services, Infosys, JSW Steel, Titan, and ITC.
Among the backwards were Power Grid, Hindustan Unilever, Tata Motors, and ICICI Bank.
Shanghai and Hong Kong were trading in the black on Asian markets, but Seoul and Tokyo were trading at a loss.
On Thursday, US markets came to an end slightly down.
According to a monthly poll, India's services sector growth reached a 13-year high in July as a significant improvement in demand conditions and an uptick in overseas sales led to the fastest rise in new business and output.
According to exchange statistics, foreign institutional investors (FIIs) sold shares of stock on Thursday totaling Rs 317.46 crore.
Benchmark Brent crude increased 0.12% to USD 85.24 per barrel.
The BSE benchmark decreased by 542.10 points or 0.82 percent on Thursday to close at 65,240.68.
The Nifty ended at 19,381.65, down 144.90 points or 0.74 percent.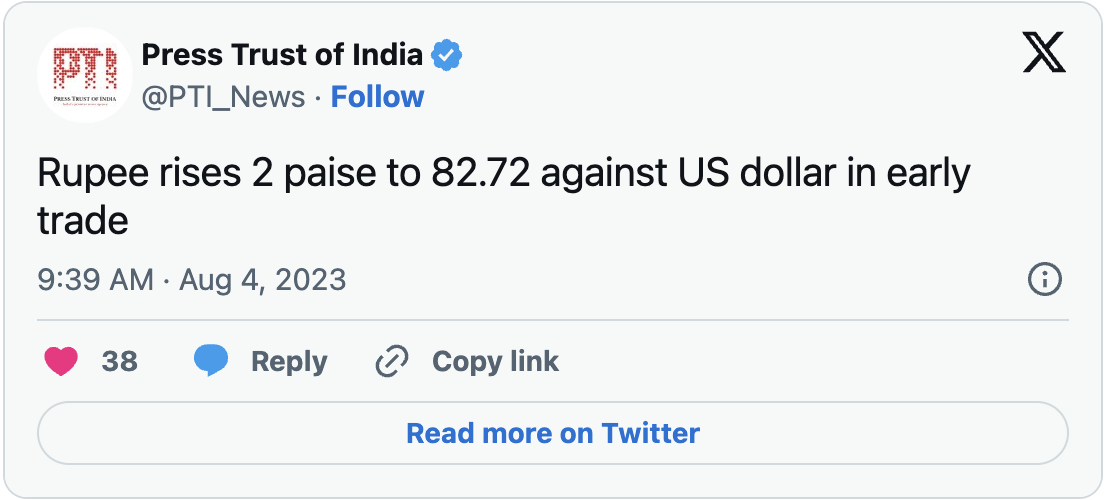 Early trading saw the rupee gain 2 paise to 82.72 against the US dollar.