The 2023 Business Conference and Awards, organized by Fame Finders, took place at the India International Center in Delhi. Throughout the day-long event, speakers, policy makers, businessmen, investors, and participants from all over the country expressed their thoughts. The main objective of the event was to promote the G20 Summit being held in India and discuss contributions from the business community.
Considering India's chairmanship of the G20 Summit, Fame Finders organized this event to promote it. The main guests at the event were Shri Rajmani Patel – Member of Parliament (Rajya Sabha), Indian National Congress, and well-known speaker; CA Deen Dayal Agrawal – Founder, CSAR Research Foundation; CA Tarun Sharma – Mentor, Startup India, IIT, Jamia; Dr. Anoop Mittal – Director, Green Planet and Chairman, ICCI; Shri Manoj Dubey – MD, Delight Automation Private Limited; Dr. Kailash Bihari Singh – Management Guru; Shri Prajnath Digvijay – Founder, Albhedo; Dr. Bhoopendra Kumar Singh – Director, CIAT and Former Advisor, Ministry of External Affairs; CA Sanjay Labh – Founder, TechPro Accounting Private Limited; Binod Kumar Singh – Founder, M Fuel Cart Private Limited; Ravi R Kumar – CEO, No Pulse International (UAE); Parizat Sinha – Director, Beshor Consulting; Nishith Sinha – Senior Business Journalist; Prof. (Dr.) Ram Singh – Professor, IIFT Indian Institute of Foreign Trade; Navendu Bharadwaj – Vice President, APR Industries Limited; Vipin Singh – President, Indian Nurses Association; Nishant Krishna – Industrialist; Dr. Anand Shukla – Director, SGPT Hospital (will chair the session); Shiv Kumar – Founder, Dring Healthcare Private Limited; Dr. Sanjay Labh – Orthodontist, Dental Surgeon, and Secretary-General, Indian Dental Association; Gauri Shankar Sahu – MD, KPM Healthcare and BJP leader; Purva Gupta – Personality Development Expert and Influential Individual; Stuti Sinha – Director, Ayam Foundation; Manisha Nagrath – Founder, Manisha Nagrath Styling and Consultation; Shri Santosh Mishra – CEO, Shisht Capital; Vinita – CEO, Vivify, HR India; Sandeep Gupta – Awareness Promoter, Trainer, and Speaker; Dr. Arunima Kumari, Director, Maxtech Private Limited; Manish Kumar Sinha – Director, EDARF; Bholanath Das – Head of School of Day Traders, Researcher; Praneet Srivastava – MD, A-Bex Services and Shambhavi Metal Alloy; CA Shankar Andani – Chartered Accountant, Founder, Sai and Company; CA Naresh Bansal – President, R.K. Group of Education; Dr. Ramvir Singh – Assistant Professor, PGDABM, Prof. (Dr.) Divya Tanwar – Renowned Educator, Author of a series of books.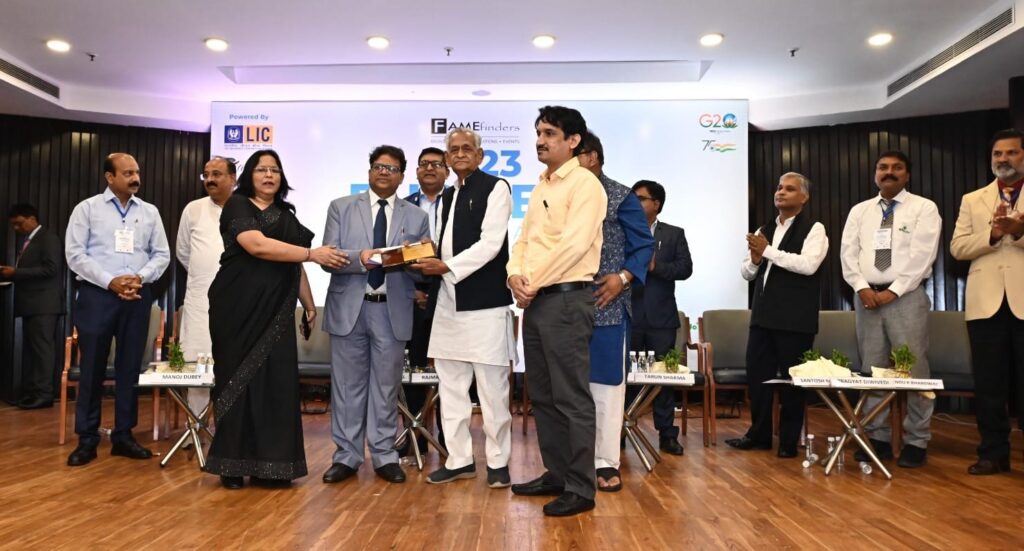 Along with them, awards were also presented to Arvind Kumar – Chairman, Mak Airways Private Limited; Mohit Rana – CEO, Informerics Analytics and Research; Siyara – Founder, F.B. Looks; Dr. Madan Lal Kaushik – Professor and Director, Adarsh Vijendra Institute of Pharmaceutical Sciences, Shobhit University; Rohit Khanna – Trainer, Facilitator, and Coach; Suraj Pandey, Mohammad Shah Alam, Arvind Tyagi – Founders, Gantavya Sansthan, and others. The event was organized by Reena Mehra, Manavendra Kumar, Stuti Sinha, Manoj Joshi, and the team of Fame Finders Media.