Dr. Ambedkar Foundation celebrated 9th International Yoga Day at DAIC premises, 15 Janpath, New Delhi with great fervour and enthusiasm. The event took place under the esteemed guidance of Member Secretary, DAF, Mrs. Upma Srivastava and the able leadership of Director, DAF, Shri Vikas Trivedi and witnessed the participation of numerous individuals, all eager to embrace the transformative power of yoga.
International Yoga Day, observed annually at Dr. Ambedkar Foundation on June 21st, aims to raise awareness about the benefits of yoga and its positive impact on physical, mental, and spiritual well-being. Our Hon'ble Prime Minister, Shri Narendra Modi came up with the concept of Yoga Day during his speech at the 69th session of the UN General Assembly on September 27, 2014. After listening to the notion of such a celebration, all 193-member states agreed to observe June 21, as a global day for Yoga across 190 countries to promote physical activity to circumvent risk factor for non-communicable diseases, such as cardiovascular diseases, cancer and diabetes. In the modern period, many great personalities have contributed to internationalizing yoga such as late B.K.S Iyengar and Sri Satyanand Saraswati. The Bihar school of yoga at Munger in 1964 inspired by Sri Sivananand Saraswati which became the World first Yoga University of the modern era. This school of thought internationalised Yoga.
Presently, trailing the visions of our Hon'ble Prime Minister, the Dr. Ambedkar Foundation, renowned for its commitment to social empowerment and holistic development, seized the opportunity to unite the community through the practice of yoga. This year, the theme for International Yoga Day 2023 is 'Yoga for Vasudhaiva Kutumbakam,' effectively encapsulating our collective aspiration for 'One Earth, One Family, and One Future'.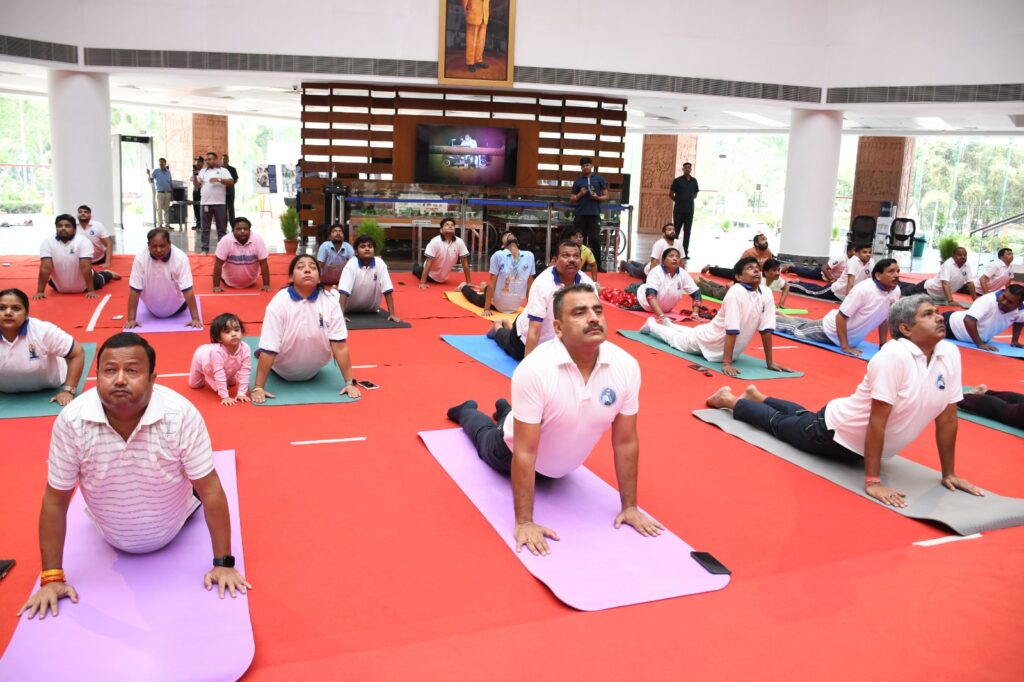 The event at DAIC premises commenced from 8 am to 9 am with some inspiring address by Director, DAF Shri Vikas Trivedi, who highlighted the significance of yoga in promoting inner peace, harmony, and overall wellness by quoting the mandate of Dr. Ambedkar Foundation and Ministry of Social Justice & Empowerment. His words resonated with the audience, setting the tone for a day filled with mindfulness and self-reflection. Under the expert guidance of Yoga instructors, participants were led through various yoga asanas, breathing exercises, and meditation techniques. The serene ambiance of the venue, coupled with the collective energy of the participants, created an environment conducive to self-discovery and spiritual growth.
In this event, Dr. Shiv Poojan Pathak, AP-I, Mrs. Prachi Deshpande, LDO, Shri Sudhir Hilsayan, Editor, Shri Prashant Poddar, Assistant, Shri R.K. Tripathy, PA, Shri Subhash Kumar, JE-I, Shri Mukesh Mandal, JE-II, Shri Anil Kumar Singh, Consultant Administration, Shri Anil Rawat, Consultant Scheme and other officials of DAIC and BJRNF had actively participated. The event served as a platform for fostering unity, harmony, and mutual respect among attendees, reinforcing Babasaheb Dr. B.R. Ambedkar's vision of a socially just and egalitarian society. Apart from this, the presence of individuals from diverse backgrounds and age groups exemplified the inclusive nature of the Dr. Ambedkar Foundation's initiatives.
"We are delighted to have witnessed such overwhelming participation in our International Yoga Day celebrations with inspiration from our Hon'ble Prime Minister Shri Narendra Modi," said Shri Vikas Trivedi, Director of the Dr. Ambedkar Foundation. "Yoga is a powerful tool for personal transformation and has the potential to uplift individuals and communities alike. It aligns perfectly with our mission to promote holistic well-being and social empowerment."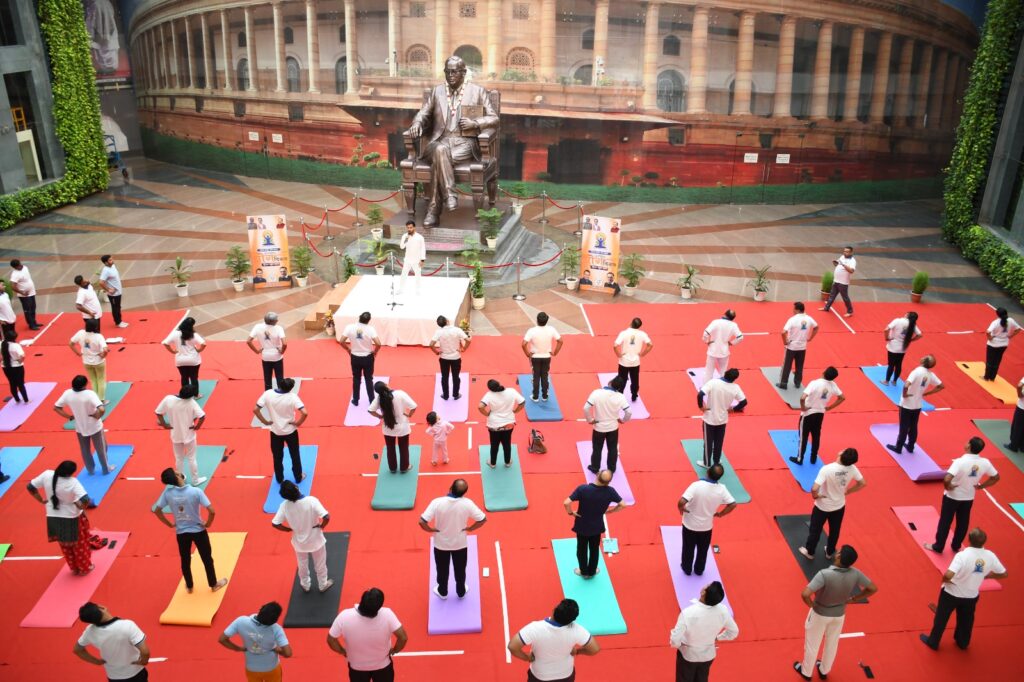 The Dr. Ambedkar Foundation in its 31 years of service to nation remains committed to organising events and activities that contribute to the betterment of society, inspired by the teachings and principles of Babasaheb Dr. B.R. Ambedkar under the leadership of Hon'ble Chairman & Union Minister of Social Justice & Empowerment, Dr. Virendra Kumar. By celebrating International Yoga Day, the Foundation reinforces its dedication to nurturing the physical, mental, and spiritual health of individuals from all walks of life.
Source: Sudhir Hilsayan, Editor, DAF