A combined gathering of the Left parties was organised to put an end to the state's ongoing brutality and politics of hatred. The three Left parties' office bearers – CPI, CPM, and CPI (ML) – conscientiously condemned the episodes of communal hate and frenzy in Purola, Uttrakhand.
CPI State Secretary Jagdish Kuliyal expressed sadness over the issues and said that instead of successfully ending the sectarian frenzy, the state's Chief Minister, Pushkar Singh Dhami, is feeding the flames. The Chief Minister has taken on the role of communal propagandist by utilising unlawful phrases like Land Jihad and Love Jihad on a regular basis."
According to Jagdish Kuliyal, "the Chief Minister was in Uttarkashi district on two occasions during the communal tensions in Purola, but during his presence there, he neither appealed for peace nor spoke of action against law-takers."
All the office bearers raised the voices and jointly questioned to state government with these lines.
Terminology like Land Jihad is also unconstitutional and illegal. This is being used by the head of the government who himself made a law for unlimited sale of land in the state.
A feeling of fear and hatred towards minorities is being inculcated in the majority of Hindus, the real aim behind this is to polarize and harvest votes.
The way minorities are being threatened by RSS-backed communal groups to vacate their houses and shops is completely illegal. Instead of taking action against such groups and individuals, it is being projected as if they have administrative protection.
Prevention and curbing of any kind of crime should be done in a legal way. No self-proclaimed religious organization or person should be allowed to play with the law and the constitution under its guise.
Despite the orders of the Hon'ble Supreme Court, no effective action is being taken by the police in Uttarakhand against those giving hate speeches. The state police and the police chief should tell what is his compulsion, which is forcing him to show contempt of the Supreme Court.
Prosperous-prosperous Uttarakhand should be our aim, not a degenerate state battered by religious frenzy and hatred.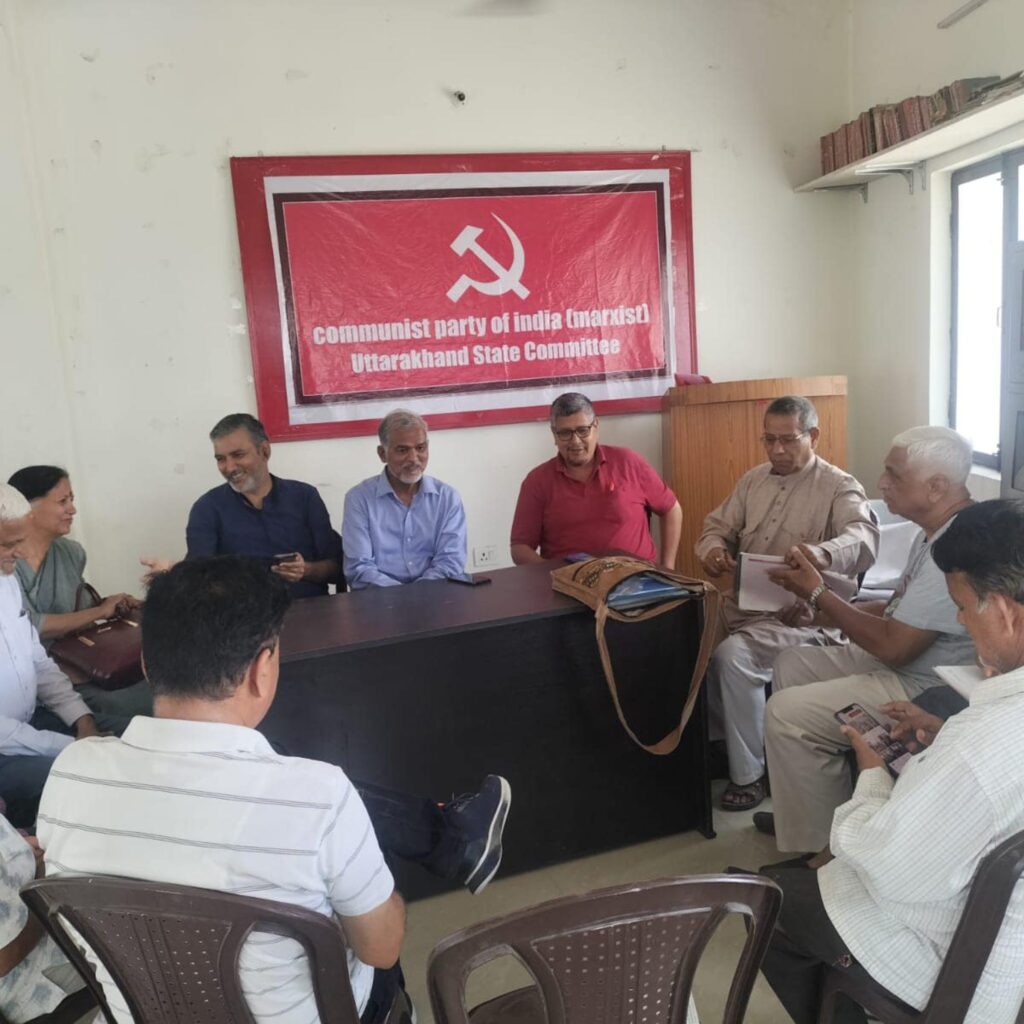 All left parties decided to conduct a webinar on above issues on 18th May and on June 20, Left parties will demonstrate at all district headquarters in Uttarakhand.
The meeting was attended by Jagdish Kuliyal (State Secretary, CPI), Rajendra Negi (State Secretary, CPI), Indresh Maikhuri, State Secretary, CPI (ML), Samar Bhandari (National Council Member, CPI), Ashok Sharma (State Executive Member, CPI), Ravindra Jaggi (State Assistant Secretary, CPI), Shiv Prasad Deoli (State Committee Member, CPI(M), Indu Naudiyal (State Committee Member, CPI(M), Rajendra Purohit (State Committee Member, CPI), Anant Akash (State Committee Member, CPI(M), Kailash Pandey (Central Committee Member CPI(ML), KK Bora State Committee Member, CPI(ML) were present.
Source – Manoj Joshi (Fame Finders Media)