Prof. Ranjit Singh currently serves as the Vice Chancellor of Shobhit University, Gangoh, and holds the position of Professor of pharmaceutics at the Adarsh Vijendra Institute of Pharmaceutical Sciences, which is a constituent Institute of Shobhit University. He pursued his academic journey at Dr. Harisingh Gour Vishwavidyalaya, Sagar (M.P.), where he obtained his B. Pharm., M. Pharm., and Ph.D. degrees in Pharmaceutical Sciences between 1989 and 1997.
Notably, he received several awards during his academic journey, including the GP Nair Memorial IDMA Gold Medal for achieving the first position in B. Pharm. examinations, the Prof. Ishwar Chandra Memorial Gold Medal for securing the first position in M. Pharm. examinations, and Junior and Senior Research Fellowships from UGC and CSIR, respectively, during his postgraduate and doctoral studies. He was also a recipient of various national and state scholarships during his schooling.
Prof. Singh's remarkable achievements include receiving over 34 awards. Some of these notable awards include the Distinguished Alumnus Award from the Department of Pharmaceutical Sciences at Dr. H.S. Gour Vishwavidyalaya in 2006, the Senior Scientist Award from the All India Medicos Society in 2009, and the Honorary Fellowship of the Royal Society of Medicos, India in 2011.
He also received the IDMA Best Paper Award in 2012, the Al-Ameen College of Pharmacy Award in 2013, and the Best Educationist Award from the International Institute of Education and Management in 2014, Eminent Teacher Award, 2015 conferred by SPER; Glory of Academic Excellence, 2015 conferred by IIEM, New Delhi; IPR Appreciation Award, 2015 conferred by UCER, BFUHS, Faridkot; SPER Fellowship Award 2016 conferred by Society of Pharmaceutical Education and Research; IPR Appreciation Award 2016 by BFUHS; Best Principal Award 2018 by FIPO during its National Convention held at Laureate Institute of Pharmacy, Jwalaji, H.P.
Leadership Award 2019 in Education Excellence conferred by Nirali Prakashan, New Delhi; Atal Samrasta Award 2019 by Indo-Nepal Samrasta Organization; Best Keynote Speaker, Uttar Pradesh in National Conference organized by SIETIIE public welfare trust, Jaunpur, UP on 28th-29th December, 2019; Pride of Indian Education Lifetime Achievement Award for Research & Academic Excellence in Pharmacy by Brands Impact, 19th January 2020; 101 Most Fabulous Healthcare Leaders by World Health & Wellness Congress & Awards, 14th February 2020; Global Teacher Award 2020 by AKS Education Awards, Gurugram, 20th December 2020; One among Twenty Top Eminent VCs of India for the year 2020 by Ulektz on 31st August 2021; Pharmacy Recognition Award 2021 conferred by Pharma LOK, Delhi on 5th September 2021.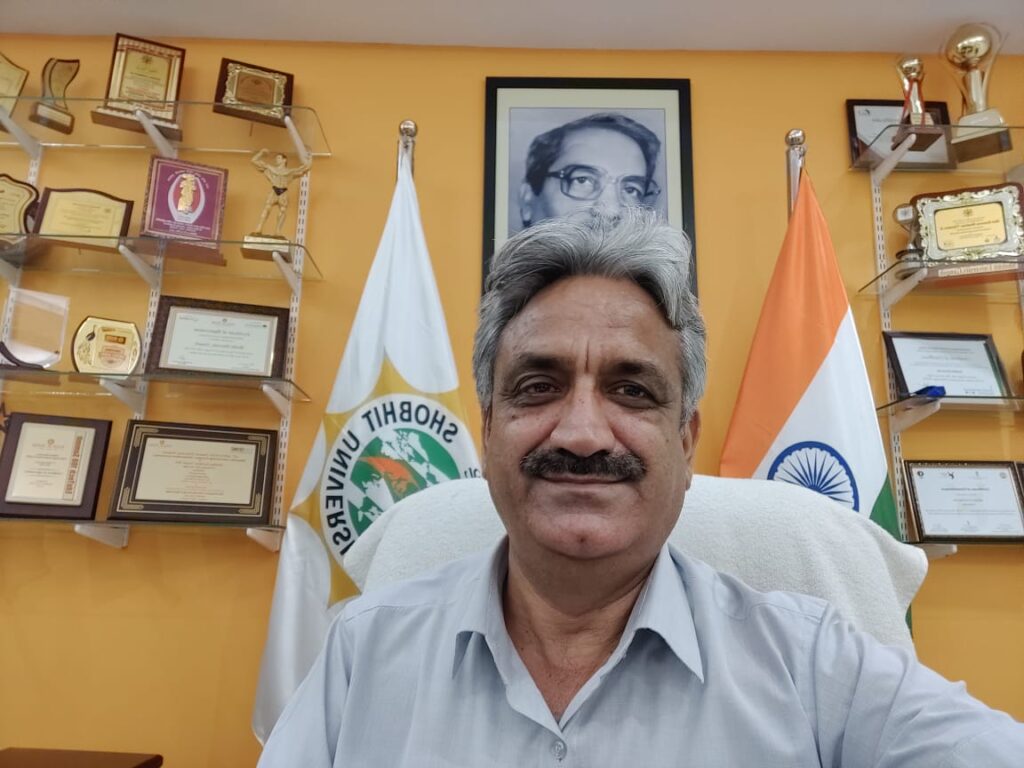 India's Most Impactful Vice Chancellor Award 2022 conferred by Daily Indian Media in association with Power Brands 2022 at the hallmark EduStar Leadership Awards 2022, Lifetime Achievement Award for immense contribution & diligent works in Pharmaceuticals by Healthcopeia Foundation, New Delhi on 7th May, 2022, The Vice Chancellor of the Year 2022 by Universal Mentors Association, New Delhi on 27th August, 2022, Elite Academician Award 2022 by IEEE & IAS for outstanding contribution to academics, New Delhi, 23rd September,2022 among others.
Prof. Singh's vast academic and industrial experience encompasses various roles such as Formulation & Development Officer at Sun Pharma Advanced Research Centre, as well as positions at different universities and institutions in teaching, research, and administrative capacities.
He has an extensive publication record, with over 173 publications in reputed national and international journals, along with 09 published patent applications. He has also delivered numerous invited lectures, presentations, and authored books and chapters. Additionally, he has guided multiple M. Pharm. dissertations and Ph.D. research scholars.
His research interests revolve around drug delivery systems, phytopharmaceuticals, and drug standardization. Prof. Singh is and has been on the panel of experts of PCI, NBA, AICTE and NAAC. He is also an expert member of the statutory bodies of many universities, advisor of many academic associations and reviewer of many journals of the repute.
He has contributed significantly to the field of pharmacy, particularly in the areas of novel and conventional oral drug delivery systems, drug discovery, analytical techniques, herbal excipients, and targeted drug delivery. Prof. Singh's passion lies in exploring the oral route of drug administration, leading to impactful publications in this domain.