Timsi Bector is a Delhi-based multifaceted personality, donning various hats as an actor, model and fitness expert. Her journey is a testament to her perseverance and hard work, serving as an inspiration for aspiring actors and fitness enthusiasts. Along with a bevy of educational qualifications to her credit, Timsi has won numerous awards, titles and recognition for her exemplary work in the fitness and modelling industry.
Timsi Bector was born and brought up in Ludhiana, Punjab. She completed her M.Sc. in Human Genetics, M.Phil. in Zoology, and M.Ed. She is also an internationally certified nutritionist and fitness trainer. Despite her educational achievements, Timsi was always drawn towards the world of modelling and acting.
Timsi embarked on her modelling journey by participating in a ramp show for the brand Launch Shoopam in Indore, where she was not only a showstopper but also a Ramp Walk Choreographer. She has also done Fitness shoots and runway modelling in the Army, showcasing her talents as a versatile model. Her beauty, poise, and remarkable acting skills caught the attention of several filmmakers, leading to her being cast for several TV commercials, web series and short films.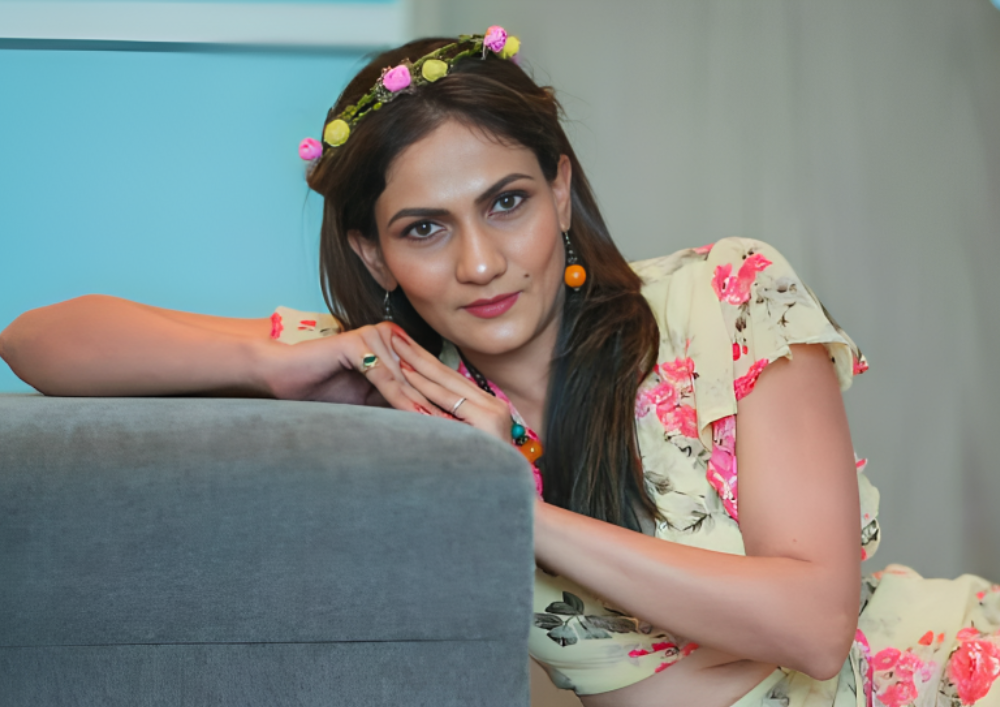 Along with her work in modelling and acting, Timsi is a renowned fitness expert, certified internationally, and a wellness coach. She has devoted more than 14 years to the Biggest NGO in the Army, serving as a wellness coach and inspiring numerous individuals to adopt a healthy lifestyle. With her impeccable fitness training skills, she has also won various awards such as "Best Fitness Influencer Award 2023" and "Wellness Coach on Heart Day" by RCED Chandigarh.
Timsi Bector has won numerous awards and titles, and her work has been recognized by various media outlets. She has been felicitated and featured in Perfect Women Magazine, Corporate Citizen Magazine (Pan India), Janmat Today Newspaper, The Pioneer Newspaper, Dainik Bhaskar, and Amar Ujala. She has won titles such as "Mrs Asia Pacific Ocean Queen 2021", "Mrs India 2021", "Mrs Perfectionist Title Holder", and "The Real Superwoman 2020" by FSIA – Forever Star India Awards.
Timsi's journey in the modelling, acting, and fitness industry continues to evolve, with new challenges and opportunities on the horizon. She strives to inspire and motivate more individuals worldwide towards fitness, positivity and living a healthy lifestyle. Her ultimate goal is to become a successful Bollywood actress while continuing her work as a wellness coach and making a positive impact on people's lives worldwide.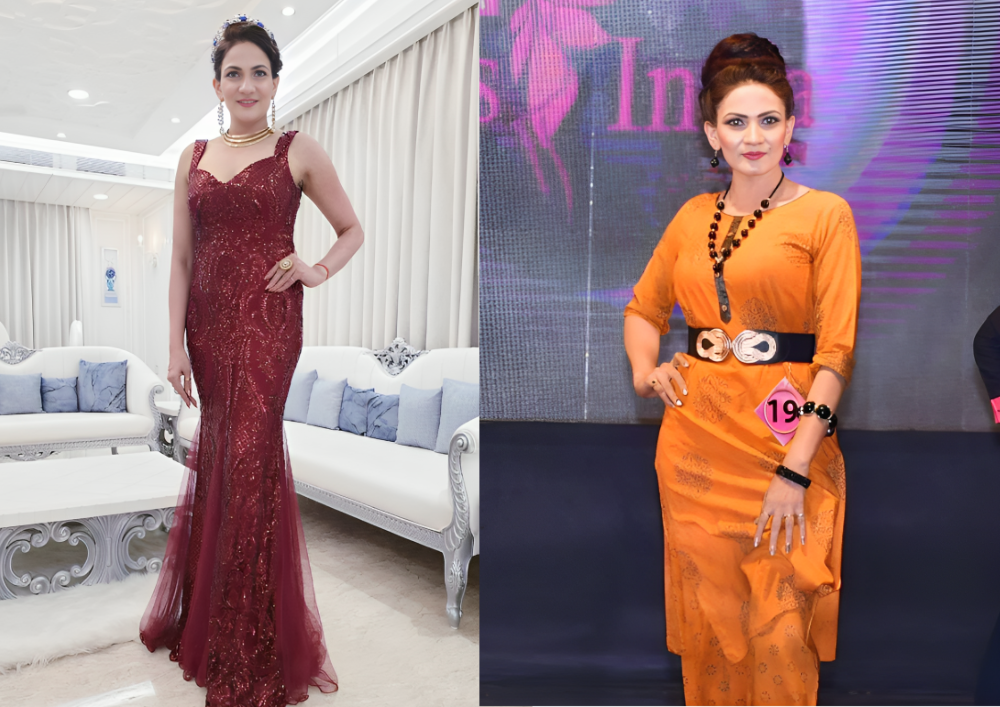 In an interview with Timsi, she expressed all aspects of life and profession.

Q1. What was special in your born & brought up life?
Ans. My birth moment as narrated by my parents was in itself a miracle. I was declared dead before birth but survived miraculously. Born and brought up in a middle class Punjabi family, my only focus was education. Since my childhood I have had an artistic brain, very active in sports and cultural activities. Being a meritorious student throughout my life, I completed M.Sc. (Human Genetics), M.Phil. (Zoology), M.Ed. I was working as a lecturer in a college of life sciences and pursuing my PhD degree in Genetics when my parents got me married. An absolutely new life started after that as I got married to a serving Indian Army Officer.
Q2. Your family & friends aspect in life in terms of support?
Ans. Real support in life is defined as getting freedom to dream, pursue passion and stand for your ownself. I got this real support from my husband Lt Col Amit Bector. Class apart, Army officers are meant to be the most disciplined and cultured clan. So immediately after marriage, my husband saw dreams in my eyes. That was the first time I walked on the ramp and got crowned too. So being into research and chasing my dream of becoming a model was a very contrasting approach but I had the perfect support system for that. Watching my dedication towards health and fitness, he helped me in getting certified as a "Nutritionist and Fitness Trainer" and today I own a Government Licensed venture by the name "VTL: VIGOUR TRANSFORMING LIVES". I embraced motherhood, waited for my kids to grow up but never stopped preparing and dreaming. So when my daughters were 12 years and 6 years old, I got crowned as Mrs. Asia Pacific Ocean Queen 2021, after being runners up in Mrs. India 2021. So now my kids also contribute to that support system.
Q3. What is your favourite career moment?
Ans. My favourite career moment that gave my life an entirely new direction was being selected by NAS ACADEMY, Singapore as one of top 25 content creators from India for an International Fellowship program. It was like a dream come true. I started learning content creation professionally by the world's best content creators and got certified too. From there, I got into Influencer marketing and as you can see today, emerged as a leading and award winning Fitness and Lifestyle influencer.
Q4.What are your thoughts on work/personal life balance?
Ans. I believe Life happens as a whole. We should not take the burden of demarcating different roles in our lives as all these roles are performed by us only. If I am happy at home, I perform better professionally and vice versa. The feeling of having a balanced personal and professional life is "Peace" and this peace is achieved by prioritising our daily tasks.
Q5. How do you stay creative and innovative?
Ans. Being an Influencer, model and content creator today, I would say that I landed up here because I followed my passion. When your passion becomes your lifestyle, you don't need any outer force to move ahead. So staying creative and innovative are the outcome of knowledge and experience I possess professionally and the appreciation and trust I get from my online community.
Q6. What are the most important lessons you have learned in life?
Ans. The most important lesson I have learnt is " Never look upto others and don't be afraid of committing mistakes. You start doing something, you will experience a lot of setbacks, lot of doubtful and discouraging moments and comments by your near and dear ones. But never let it affect you and just keep moving silently, emerging as a stronger person at every moment. You don't need to react to every situation and answer every query, it drains you out of energy. So just trust your own self, trust your talents, instincts. Let your mistakes be the building blocks of your own success.
Q7.What advice would you give to someone who is at the beginning of their career?
Ans. The most important thing at the beginning of a career is to stay consistent. Discipline, dedication and consistency might take longer to reach somewhere but is surely going to take you higher in life. Don't ever focus on short term goals, have patience and keep moving, one step at a time. Give your dreams enough time and nurturing to flourish fully in life.
Q8. How have you dealt with failures or disappointments?
Ans. Like any other person, I have also faced failures and disappointments but believe me, the best way to deal with them is "Get up and Bounce back". Immediately after a failure, rejection or disappointment, I never panicked and tried to change my course of action, my personality or my aura, as these are the attributes that define me. So, accepting the negative moment, accepting the truth that might be I was not meant to be there, I always bounced back with more strength. Staying optimistic is in my soul, so it always helps me. Otherwise having three abdominal surgeries, complicated health issues and being extremely obese, I could have never thought of being a wellness coach in the first place.
Q9.What are some of the biggest mistakes you have made in life?
Ans. I have made many mistakes in my personal as well as professional life but the biggest mistakes include: not going out of my comfort zone, trying to manage all by myself, giving less time to some tasks predicting the outcome.
Q10. How have you learned from negative people?
Ans. The biggest lesson negative people have given me is "Ignore them". I have encountered many negative people in my life, tried to make an impact, tried to correct them, tried hard to change their perspective, tried to show them the better world but with time and age I realized that they can't change and it ultimately affects your own energy. They are neither right or wrong, they are just being themselves and if you don't feel positive, encouraged and happy in their presence, just avoid them.
Q11. How have you dealt with stress or conflict in your profession?
Ans. Stress or conflict are very normal encounters in any profession and these are not exactly the situations, these are our reactions to any situation. I, personally, am a person who doesn't always abruptly react in any professional situation. I absorb it, think about it and then deal with it and that's how I avoid being stressful or being in a conflicting situation. Stress and creative work can't go hand in hand so sometimes I have to make the choice to silently back out or dissolve a particular contract if it is creating too many conflicting situations.
Q12. What are the most important skills or traits for success in your industry?
Ans. The most important trait or skill that has always brought me up in the limelight and good books, whether I was doing a lecturer, or a teacher, or now an influencer and content creator is my Discipline and commitment. Believe me or testify it from my family and friends, I have never been late in my life, never late for school, never late for lectures, never late for any job and presently also, I am always the first one to reach an event even if I am invited as the chief guest or judge. I am never late in submitting my deliverables as an influencer. Managers never need to inform me again and again about a particular task and most importantly I have been living these traits as a lifestyle so I don't need to put in efforts to be disciplined and committed. Just perform each and every task on time and you always have more time to live your life.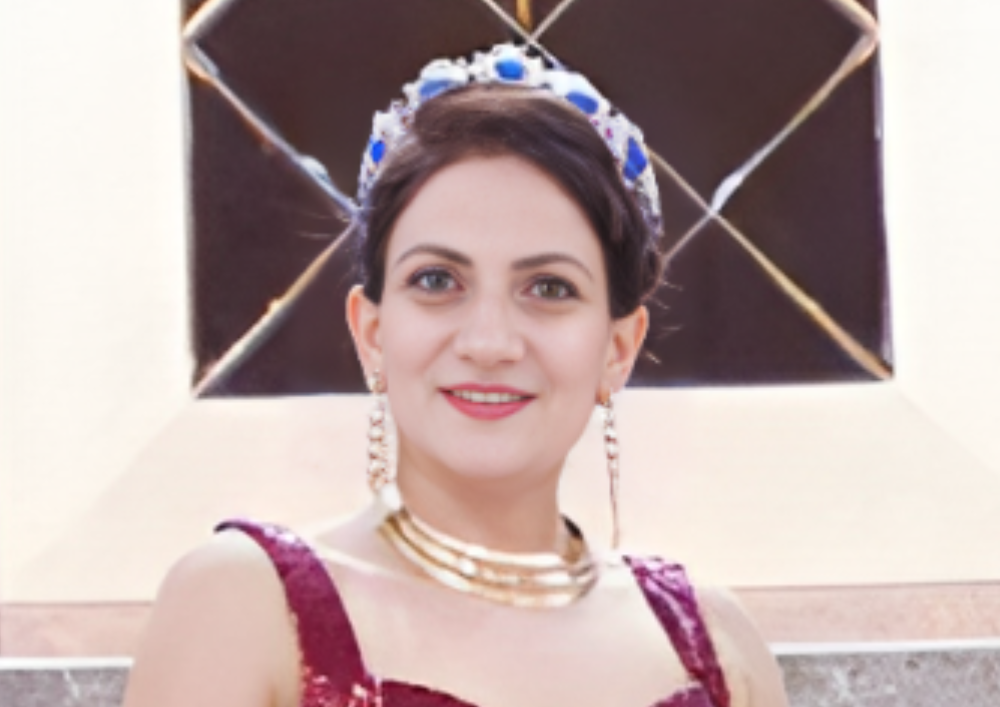 Q13. How have you developed or changed throughout your life journey?
Ans. Today, if I look back, I see myself as a totally changed person. I have changed in terms of my attitude towards myself and my surroundings. Taking care of myself is the utmost priority now as I have realized that I can potentially perform all my duties and regular tasks if I am fit and healthy. With this my definition of "selfless service" has changed. I give myself enough time to process emotions and actions. I choose to ignore rather than to react negatively. Professionally dealing with a whole lot of different people from all walks of lives has broadened my horizon about vast perspectives and approaches.
Q14. What are some of the biggest challenges facing your industry today?
Ans. The biggest challenges in the industry I am working in, include authenticity and genuine work. Initially, I had to filter out and dig in all relevant information in order to be assured of the authenticity of the work offer. As most of our work is paid after the deliverables are done, so working through the genuine agencies and managers is the biggest challenge. But once you are established, then you can figure this out easily.
Q15. How have you dealt with discrimination or sexism in your field?
Ans. I feel different tasks require different persons. First of all you should have a clear thought process and acceptance about the true world. And yes, the real world discriminates many times. Everybody is not a person of principles or values. I have personally faced it many times. The work culture, shoot locations and timings are not always meant to be convenient for females and it's very disappointing sometimes that nobody is ready to address such issues.
Q16. Where do you find yourself limited and infinitely?
Ans. I always believed that if you enjoy doing your work, you are unstoppable. I am a perfect example of this. I started my career in modelling at the age of 37 years, content creation and influencer marketing at the age of 39 years and today at 41 years of age, I am still moving ahead getting success at every step. I am not done yet. This is just the beginning.

Readers can connect with Timsi Bector on her soical media profiles on Instagram – https://instagram.com/glamfit_faujiwife?igshid=OGQ5ZDc2ODk2ZA== & on Facebook – https://www.facebook.com/timsi.bector

Story covered by Fame Finders Media